Informative Forums in WMF 2018 Widely Cover Hot Industry Topics
Publish Date: 08-17 2018
Consumers' demand and preferences of furniture keep changing over the remarkable development of internet. People surf the web to look for more information and comments from other users and opinion leaders before making purchasing decisions. Custom furniture, personalized design and premium products are receiving increased attention. Instead of producing standardized products, manufactures need to acquire up-to-the-minute market trends and technology in order to equip themselves for meeting consumers' needs. In the forums during the Shanghai International Furniture Machinery and Woodworking Machinery Fair (WMF 2018) on 10-13 September at National Exhibition and Convention Center (NECC), Shanghai, China, industry giants and representatives from all around the world will share their views on various hot topics of wood panel board development, industry 4.0 technology and international market news.

Industry 4.0
The support of smart manufacturing by Industry 4.0 is of vital importance to the production of custom furniture. In the two forums of industry 4.0 in WMF 2018, woodworking and furniture experts from all over the world will have in-depth discussion on the latest trends in solid wood production, custom technology and furniture design. In the "Solid Wood Manufacturing Forum", WEINIG Group will introduce smart solid wood processing technologies, while Sales Vice President of Furniture of Lectra will share the design and production trend of upholstered furniture. In the "Customized and Networked Production Forum", SCM Group will talk about how to enhance flexibility of mass customization and Homag China will analyze the evolution of networked production towards Industry 4.0. To tie in with the development of Industry 4.0 and betterment in the industry, integration of human resources and innovative design are also significant issues. The Dean of Shenzhen Institute of Furniture Manufacturing Engineering and other experts will discuss about human resources management in smart furniture and woodworking production; the Founder & Creative Director of MELZ DESIGN will share his new design ideas; Kenji Wong, the winner of the merit award in HKT Smart Living Design Award 2018 will illustrate the development of smart home and adaptable furniture for all ages.

Development of Wood Based Panels
Wood based panel is an important material with increasing demand in all around the globe. In the 17th National Symposium on the Development of Wood Based Panels Industry, development and trends of wood based panels, innovation of production line and equipment of wood based panels, quality improvement measures for wood based panel products, as well as analysis of international trade and target markets will be revealed. Sales Director of China of Dieffenbacher GmbH Maschinen-und Anlagenbau, which is one of the exhibitors and has a history of more than 140 years, will share the views over the development and new technology of wood based panels in the Dieffenbacher New Technology Conference 2018.

Timber Manufacturing Technology
Timber related manufacturing industry is moving towards low pollution and green production with new government policies and increased awareness of environment protection of consumers. Thus, manufacturers now aim at high cost-effectiveness, energy saving and high product quality. In the Forum on Wood Products Green Manufacturing Technology and the Forum on Wood Sawing and Drying Technology, international scholars and industry professionals will share the current status and trends of domestic and foreign timber manufacturing technologies, transformation of raw material structure (artificial fast-growing timber, small-diameter timber, secondary forest timber), as well as new requirements of material drying equipment and technology for smart and personalized household. In the forums, wood products green manufacturing technology and efficient material drying technology will be launched.

Trends in Other Markets
The "Belt and Road" initiative is affecting the furniture market in other places. Malaysia, Myanmar and Russia which produce wood products have rapidly adopted different solutions to strive for the largest business opportunities among the changes. The New Business Opportunities in Woodworking & Furniture Industry Forum will gather representatives from association and enterprise as well as an academic to share the industry status of their countries and the solutions for challenges evolved during business upgrade and reform.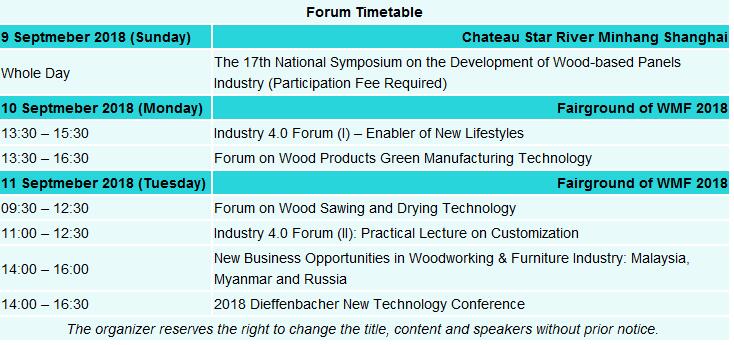 Register for WMF 2018 to Enjoy Priority Participation to the Forums
Covering a total exhibition area of 400,000 sq.m with more than 2,000 exhibitors and 1,100 woodworking machinery, WMF 2018 and CIFF (Shanghai) are devoted to create a one-stop trade and information platform to help enterprises develop their businesses. By registering online on www.woodworkfair.com, visitors will enjoy free admission of both WMF and CIFF (Shanghai), and priority of participation to the forums (enrolment deadline on 3 September 2018). For more information, please visit the show website and social media platforms.

- END -

Connect with Us



@woodworkfair
@ WMF Fair

@ WMF_SHWoodFair

Organizing Committees:





Exhibitor Enquiry
Ms. Winnie Cheng
Tel: (852) 2516 3518
Email: wood@adsale.com.hk

Visitor & Media Enquiry
Ms. Rebecca Lam / Belinda Leung
Tel:  (852) 2516 3510 / 3523
Email: wood.pr@adsale.com.hk